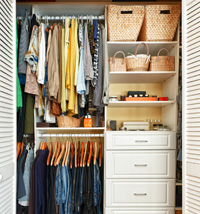 Is anyone else beginning to go stir-crazy? While I'm glad we missed the last snow storm, the constant cold has us house-bound and restless. And with all this time spent indoors, I've had plenty of time to consider all our piles of stuff! So since I'm stuck in the house anyway, I started looking around for some inspiration on how to de-clutter our space and I found this great article.
Our remodel of the mudroom has made a big difference this winter now that we have places for all our cold weather gear, so I know it can be done. What to tackle next? After looking at these suggestions, I think I'm going for my kids' toys and craft supplies. I don't know about you, but they're strewn all across our house and while I want to encourage their creativity, I don't want to live in the mess! I like the idea of creating specific spaces for activities and to have labeled bins or baskets for supplies.
What about you? How do you manage clutter in your home? Any of these suggestions inspire you to tackle a space in your home?
See you in the aisles of HomeGoods!