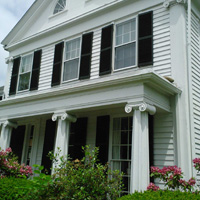 While I'm clearly passionate about real estate, what excites me the most are the historic homes -- one of the reasons I so love Bedford and the surrounding areas, which are rich with historic and architecturally interesting homes. One of the first questions people often ask about a house is what style of architecture it is. And given how many styles there are, including combinations, it can sometimes be a challenge to determine, so I thought I would share some of the styles most commonly encountered nearby, with some identifying marks of each style and pictures of my favorite examples.
I'll begin with one of my favorites -- greek revival. In fact, that's the style of my office at 90 Great Road in Bedford, which is one of the reasons I'm partial to it!
This style was prevalent in the US from 1825-1860, reflecting the country's desire to embody the democratic ideals of ancient Greece while distancing itself from British influences. A favorite of the first generation of American-born architects, the design of the Bank of the United States in Philadelphia (1818), inspired by the classic form of the Parthenon, cemented Grecian architecture with economic security and became the universal fashion for public buildings, churches, banks, and town halls.
It became the dominant architectural style of residential architecture as well, with large groups of Greek Revival houses still found in cities that industrialized during this time such as New Haven and Hartford, CT and Cambridge and New Bedford, MA, with the influence also spreading to rural areas of New England.
Identifying features of Greek Revival architecture include:
Gable-front orientation
Symmetrical façade, though entry is often to one side
Front door surrounded by narrow sidelights and rectangular transom, usually incorporated into more elaborate door surround

Windows typically six over six double-hung sash
Gable or hipped roof of low pitch
Cornice lines emphasized with wide band of trim (plain or with incised decoration, representing classical entablature)
Porches common, either entry or full-width supported by prominent square or rounded columns

One- or two-story with full height columns supporting front pediment gable
Pilasters, particularly at the corners of the building, occasionally across entire façade

Full-width colonnaded porch giving appearance of Greek temple
Information for this article was drawn from the website of Historic New England, where you can view a gallery of Greek Revival properties.
Every house has a story -- come back for part two next week to learn more about the history of 90 Great Road (my office building). What's the story of your home? Please share it with us on our the Suzanne and Company Facebook page!