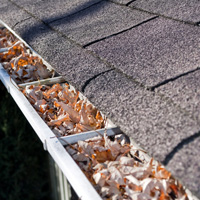 With the beautiful summer weather finally here, I'm spending every free moment I can outdoors by the pool, the beach, or in a park somewhere, so I know the idea of thinking about home maintenance sounds about as appealing as a trip to the dentist! And similar to avoiding the dentist, avoiding necessary home maintenance and repairs can lead to your home losing up to 10% of its appraised value according to this article.
The good news is that a simple plan of regularly scheduled check-ins can go a long way towards avoiding accelerated deterioration. Especially with the heavy rains we've been having, I appreciated the recommendation to pay close attention during and immediately after the storm to look for any signs of water damage -- when discovered and repaired quickly, you can avoid a big expense. And speaking of big expenses, they recommend creating a separate home maintenance account and building it regularly over time, so when it's time to replace a roof or reside/paint the house, you'll be prepared.
How about you? What do you do to keep your home in tip-top shape?