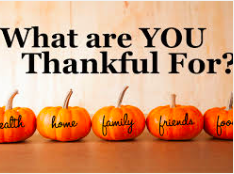 As we prepare for days of feasting and visits with friends and family, I'm also present to what a tough year it's been for so many of us — nationally, internationally, and very close to home as well. We've sustained some extraordinary losses and striking changes, and yet some things are constant — family, holiday gatherings, traditions, and having gratitude for the little things that bring us joy and keep us going. So be sure to love the people in your life — hug them, tell them you love them, listen to them. And not just this week, but every moment you have with them because each moment is precious.

And in that spirit, I want to let you know just how thankful and privileged the entire Suzanne & Company team is for the opportunity to work with you. When we work with you to buy or sell a home, we know you're welcoming us into your lives and we take that honor and privilege seriously.

Here's a thought I found as I was preparing this post:

"Life is huge! Rejoice about the sun, moon, flowers, and sky. Rejoice about the food you have to eat. Rejoice about the body that houses your spirit. Rejoice about the fact that you can be a positive force in the world around you. Rejoice about the love that is around you. If you want to be happy, commit to making your life one of rejoicing." — Author Unknown

During this time of abundance and thankfulness, we wish you and your families much joy and togetherness and let me say it one more time — among the many things we are thankful for, we are thankful for the opportunity to work with and to serve you.

Gracias. Obrigado. Danke. Grazie. Merci.