After an early start, it feels like spring is stalling a bit, but never fear — it is officially here! The longer days make me long to switch out of winter mode into spring and summer mode. And while the extra sunshine is energizing, the thought of "spring cleaning" can be overwhelming, so I thought I'd turn to our in-house experts for some tips on how to manage spring cleaning and prep our homes for the warmer temps. So here you go — the Suzanne & Company spring cleaning and organizing hacks!
Suzanne Koller, Broker/Partner
One of the keys for us is to get the kids involved. We create storage spaces for their toys and then teach them that any toys left on the floor at night won't be there in the morning! I also sort through their clothes in the spring and fall and pass along the items that no longer fit.
For the bigger jobs, we schedule a family weekend project — the most recent was our under stairs closet which had become completely packed and a catch-all for coats, games, and countless hopelessly "lost" items because we just couldn't bear to sort through everything to find something. We emptied it out, Ryan built shelves and I got a series of baskets and containers at Home Goods, including a roll-out bin for the kids' toys and games. It's made a huge difference in our home!
And the clear indicator that spring has arrived in the Koller house? I get the screened-in porch ready for summer entertaining — I wipe down all the surfaces to clear away the dirt and the pollen, get the cushions out of storage and watch the weather forecast for those evenings warm enough to enjoy a glass of wine outdoors!
Thais Collins, Buyer Specialist/REALTOR®
Nothing feels like spring cleaning to me more than packing away winter clothes and sending my warmer weather favorites to the dry cleaners to be put back to "work"! I also schedule a day off to be home with the cleaners (which only happens a few times a year), and get the house opened up and fresh. This is what makes me feel truly spring-y.
Becky Gould, Director of Team Operations
Every spring and fall I rotate all our mattresses. In addition, I pour 15-20 drops of my favorite Aveda essential oil into a box of baking soda, sprinkle it all over the mattresses (I do this to our shag rug, too!!), leave it there for one hour and then I vacuum it all up. Not only does it freshen our bedrooms, but I swear it helps me sleep better!
I love using baking soda and vinegar for cleaning — and if you add a couple of drops of Dawn it helps too! It's great for scrubbing tubs and sinks. Another great tip is to take 10-12oz of vinegar, heat in microwave until it's hot, pour it into a spray bottle, add 8-10oz. of Dawn and then spray it on shower walls, tubs, and backsplashes — any surface you want to remove water stains and see them really shine!
Finally, my other favorite cleaning products are the Swiffer 360 duster with Febreze smell and the Magic Eraser.
Amanda J. Howard, REALTOR®
Spring cleaning to us means CLEAN WINDOWS!! Here are the three steps we use: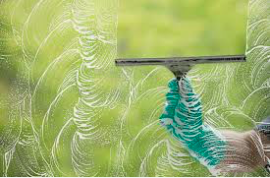 Wash with a strip applicator. The long cloth head of a strip applicator soaks up a lot of soapy water and knocks dirt loose without scratching the glass. They can be found at any home hardware store. And use just a squirt of dishwashing liquid in a bucket of warm water—the less suds, the better.
Wipe clean with squeegee (cleaning the blade after each swipe).
Dry off remaining drips (including the window seal!).
You'll be amazed at how much this brightens your home!
Jessica Clark, Lead Buyer Agent/REALTOR® & Christina Hixon, Transaction Coordinator/REALTOR®
The strategy we recommend is to stay on top of clutter and minor clean-ups on a daily basis to minimize the need for big overhauls or deep cleaning. Some ways to accomplish this are:
Use a basket to collect clutter in every room. Examples: On the bedside table, collect jewelry, hair elastics and other small personal items in a small basket or tray. In the living room, keep all the remotes in a basket or decorative container so the coffee table looks clean.
Keep a box of Clorox wipes in remote stations (like bathrooms) to wipe down the sinks and toilets when they get a little dirty (with 3 children someone is always peeing on a seat!!).
Invest in a good small vacuum for the kitchen and keep it in the pantry (or someplace else close at hand) for quick kitchen cleanup of crumbs and spills after meals — that way you don't have to break out the big vacuum just for the kitchen every day!
Install hooks in the entry for kids' backpacks, jackets, and sports equipment as well as wire folder organizers on the wall for homework or important papers keep the clutter by the front door to a minimum.
Add drawer dividers and teach the kids to separate socks, underwear, bathing suits and other items on their own to make it easier to find those vital things during the morning scramble.
Activities to schedule once a year:
Sort the Tupperware cupboard and toss miss-matched pieces, chewed sippy cups, and worn out plastic cups and plates.
Devote a few hours to make a pile of unused and outgrown items from your basement or attic and call Big Brother to schedule a pickup and then leave the pile in your driveway.
Décor-wise, rotate throw pillows and blankets to lighten up the look and change the texture in living room. Put forsythia branches in a large vase for big impact in the dining room, or even add it to your favorite simple wreath on your front door for a splash of color.
And a refrain we heard from many members of our team, even when they have the best intentions, sometimes they just don't get to it. If that's the case for you, when all else fails, hire a cleaning service! Don't have one on your speed-dial? Contact us and we'll be happy to share our personal recommendations.
How about you? What makes your home feel like spring to you? Any shortcuts or tips? Share your favorite spring cleaning tip, activity or product and be entered into a drawing for two Red Sox tickets! We'll pull the lucky winner from all entries on May 15. Happy spring!